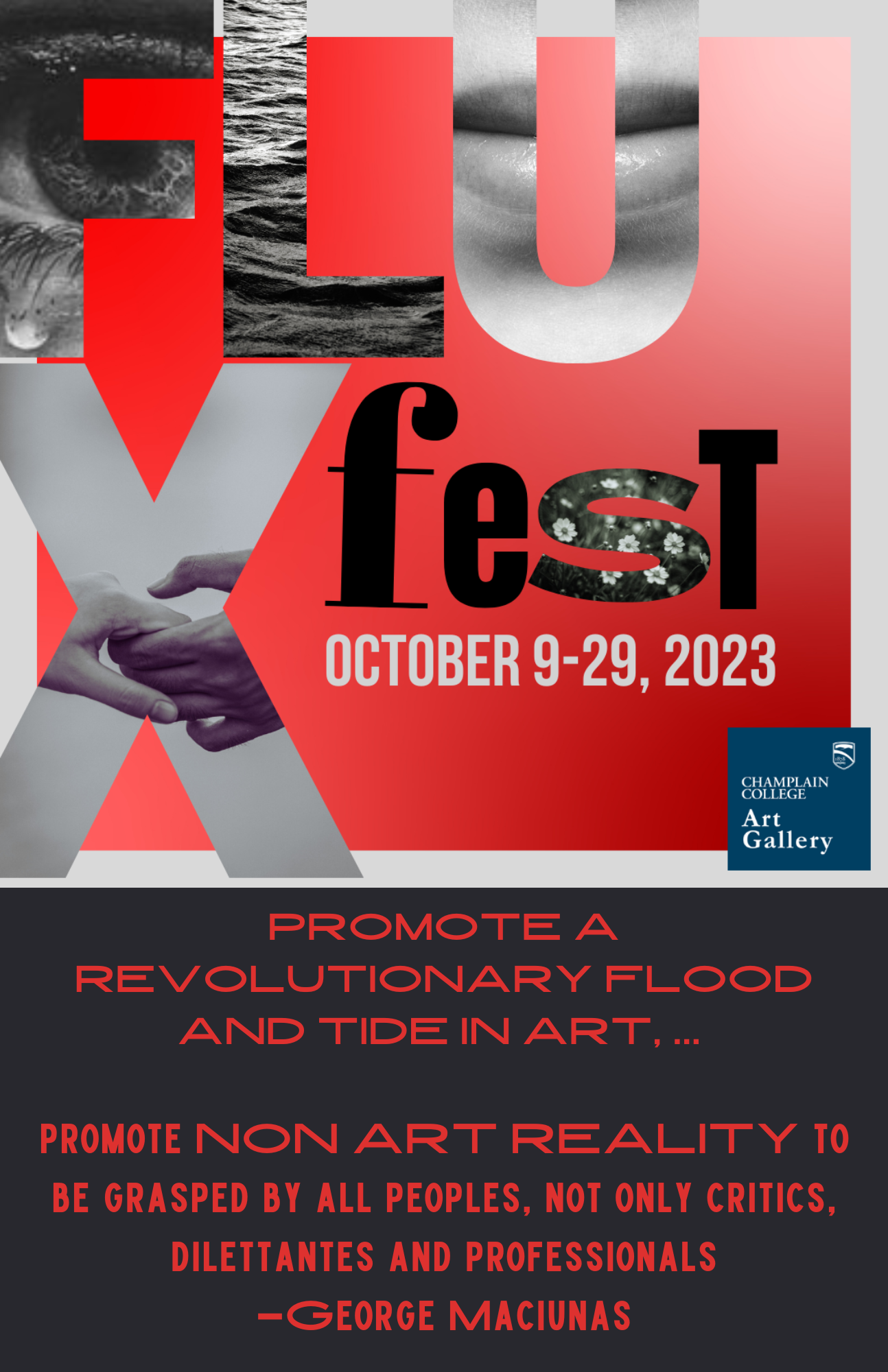 Champlain College Art Gallery Presents: FluxFest
October 9- 29, 2023 with artist in residence: John Killacky

FluxFest Reception: Friday, October 20,2023, 4pm-6pm.

FluxFest is a three week interactive Fluxus inspired event with participating faculty, students, and guest artists. This interdisciplinary multi media collaboration demonstrates how Fluxus, a 1960's art movement, is still relevant to our current cultural landscape.This exhibit highlights what happens when we let go of outcome and learn to be present with chance and curiosity within the creative process. 
During the first two weeks of FluxFest, Artist in Residence, John Killacky will be visiting students in our Core Division and Center for Communication & Creative Media Division to engage students with a brief history of Fluxus. On Friday, October 6, Lori Goldston will perform Cello Film Magic, a live soundtrack to the films of Harry Smith at 5:30pm in the Champlain Auditorium. On Wednesday October 11th, from 4-5pm,  there will be a FluxFest Conversation with artist in residence John Killacky, Fluxus art collector Mark Waskow, and original Fluxus member Nye Ffarrabas in the Main Gallery.  
In week two, we will begin to install student, faculty, and guest artist projects in the main gallery.  From October 17-20, there will be impromptu live performances, event happenings, and artifacts/ephemera on display (check website for updates) throughout the week.  This exhibit will be up until Monday, October 29th , and will be included in the Champlain Weekend Program. 
In addition to our FluxFest, On October 26 Killacky's video FLUX featured in the exhibition will be broadcast on Vermont Public at 8 pm as part of the Made Here series.
Location: Champlain College Art Gallery, 2nd floor Center for Communication and Creative Media (CCM Building) 163 South Willard St., Burlington, Vermont 05402
Participating Artists Include: John Killacky, Nye Ffarrabas, Dominque Gustin, DJ Hellerman, Al Larsen, Jen Berger, Erika Senft Miller, Kelly Holt, Wylie Garcia, John Thomas Levee, Sean Clute, Molly Davies, Ken Howell, and others to be announced. 
Are you a student or faculty? Click here for more info about how to participate in FluxFest.